International Driving Permits (1926, 1949, 1968)
Country name & FIA IDP-issuing Club's details
An International Driving Permit is a translation of your national driving license. The IDP allows motorists to drive vehicles in foreign countries. While driving abroad, you must always have your IDP along with your national license at all times. To get an International Driving Permit in Bosnia and Herzegovina, visit the BIHAMK (Bosnia and Herzegovina Automobile Club), www.bihamk.ba
Contact details
| | |
| --- | --- |
| Branch name | Phone number |
| Sarajevo– Skenderija 5 | +38733208440 |
| Sarajevo- Bulevar Meše Selimovića 97 | +38733 291315 |
| Ilidža- Sarajevo — Blažujski drum 78 | +38733777100 |
| Zenica- Blatuša b.b. | +38732245676 |
| AMK "DISTRIKT BRČKO" – Brčko | +38749504339 |
| AMK "BUGOJNO" – Bugojno | +38730251942 |
| AMK "CAZIN" – Cazin | +38737512987 |
| AMK DOBOJ JUG — Doboj Jug | +38732691368 |
| AMK "BIHAĆ" – Bihać | +38737223862 |
| AMK "BPK" – Goražde | +38738221269 |
| AMK "ŽZH" – Grude | +38739662380 |
| AMK "ILIJAŠ" – Ilijaš | +38733400031 |
| AMK "SUNCE" — Jablanica | +38733400031 |
| AMK "KALAMK" – Kalesija | +38735631064 |
| AMK "Karaula" – Kladanj | +38735621261 |
| AMK Transport — Kakanj | +38732557781 |
| AMK "MOSTAR" – Mostar | +38736323245 |
| AMD «AURO AUTO" – Mrkonjić Grad | +38750211511 |
| AMK «AC» — Široki Brijeg | +38739704720 |
| AK "TEŠANJ" – Tešanj | +38732663552 |
| AMK "TRAVNIK" – Travnik | +38730518987 |
| AMK "TUZAMK" VI Bosanske 4 – Tuzla | +38735248930 |
| AMK "PRO DRIVE" – Velika Kladuša | +38737772190 |
| AMK «VOGOŠĆA» — Vogošća | +38733456555 |
Information about an IDP in (your country)
Bosnia and Herzegovina signed 2 United Nations conventions, and it is a legal requirement for visitors to have a valid International Driving Permit (IDP) in order to rent a car and legally drive in Bosnia and Herzegovina. All visitors who plan to drive in Bosnia and Herzegovina must make sure they obtain an IDP in their home country or country of residence before they travel.
The IDP, which is valid for 2 years, proves that you hold a valid driver's license in your country of residence. It will also help protect you and your family in the event of an accidental and/or vehicle damage while driving abroad, or the loss of legal identification such as a passport. The IDP is recognized all over the world and is available in 10 different languages in order to help overcome language barriers.
Similarly, Bosnia and Herzegovina nationals and residents who wish to drive abroad, need to apply for an IDP via the BIHAMK.
Requirements
Follow this http://bihamk.ba/bs/vijesti/touring-info/199 to find out about our office locations across the country.
All you need to do is to submit 2 standards, passport size photos and present the following valid documents:
-National Driving License
-National ID Card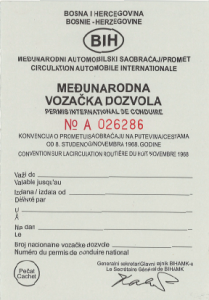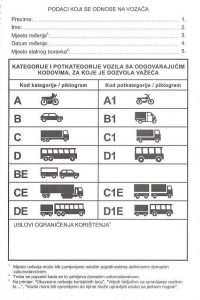 IDP Sample