Dominican Republic
To apply for an IDP from Dominican Republic, follow these simple steps:
1. Click the button below to go to the website of the national IDP provider

2. Follow the instructions of your national association
INTERNATIONAL DRIVER LICENSE
The International Driver's License, accepted in more than 220 countries outside of the Dominican Republic, is a legal identification document that translates the information contained in the driver's license of the Dominican Republic into 10 languages. The permit is valid for one year from the date of issue, and must be accompanied by a valid driver's license in the Dominican Republic at all times.

The Dominican Club Automobile issues this license, has 12 offices nationwide, thus allowing extensive coverage to provide information and service.
Regardless of legal requirements, the Automobile Club Dominicano recommends that all international travelers carry an International Driver's License at the time of travel.
Requirements for obtaining the License
1 – Dominican current license that is not revoked or suspended.
2 – Valid Dominican Identity Card.
3 – 2 photos 2×2 white background card size.
4 – Complete the application form.
5 – Payment of DOP 5,900.
The procedure for obtaining the License can be done in person at our offices or through the web https://acd.com.do/licencia-internacional/
The process lasts 48 working hours, and then you can enjoy driving with a backup for more than 220 countries around the world.
International Driver's Licenses are issued under the international regulations of current motor traffic described in the International Conventions of Geneva 1949, Vienna 1968 and Washington 1943, texts signed by the signatory countries and deposited in a timely manner in the General Secretariat of the UN. This international driving document is a translation in several languages ​​of the National Driver's License and its purpose is to certify that the licensee is authorized by his country of origin to drive abroad before the traffic authorities, being necessary in the cases that the tourist is involved in traffic problems such as accidents or infractions abroad.
Data from the Dominican Republic
The Dominican Republic is a country that occupies more than two thirds of the eastern island of Hispaniola, in the archipelago of the Greater Antilles. The western third of the island is occupied by Haiti. Thus, La Española is an island shared by two States. Both by surface area and by population, the Dominican Republic is the second largest country in the Caribbean. Its territorial extension is 48,311 square kilometers and its total population is 9,445,281 inhabitants according to the 2010 census
Capital : Santo Domingo
Official Language : Spanish
In relation to driving, the vehicles have the guide on the left therefore it is driven on the right margin of the road. The maximum speed is 120 km / h on motorways, in a residential area it is 30 km / h and in 60 km / h avenues.
In case of emergencies the 911 service is available and with RD Vial a free assistance program on routes, for the latter they must call 829 688 1000 or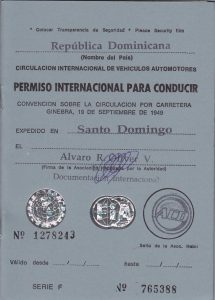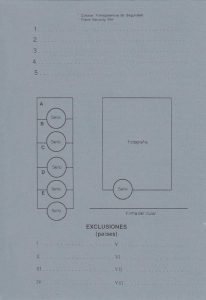 IDP Sample