International Driving Permits (1968)
Country name & FIA IDP-issuing Club's details

The Republic of Moldova
An International Driving Permit is a translation of your national driving license. The IDP allows motorists to drive vehicles in foreign countries. While driving abroad, you must always have your IDP along with your national license at all times. To get an International Driving Permit in the Republic of Moldova, visit the www.acm.md site.
Contact details
| | |
| --- | --- |
| Branch name | Phone number |
| Chisinau | +37322292703 |
| | |
Information about an IDP in (your country)
International Driving Permits issued in accordance with the requirements of the International Convention on Road Traffic, concluded on 8 November 1968 in Vienna, are valid on the territory of the Republic of Moldova only for driving means of transport participating in international traffic (travel, international freight, work missions lasting up to one year). If the holder of the international driving permit becomes a resident of the Republic of Moldova, his driving license will be replaced with a driving license issued by the Republic of Moldova authorities. In order to drive motor vehicles on public roads, holders of driving licenses issued by other states who establish their domicile or residence in the Republic of Moldova are obliged to request the competent authorities to exchange them with similar documents of the Republic of Moldova within maximum 6 months. The IDP is recognized all over the world and is available in more than 10 different languages in order to help overcome language barriers.
Similarly, Moldovan nationals and residents who wish to drive abroad, need to apply for an IDP via the Automobile Club of Moldova.
Requirements
Follow this http://www.acm.md/en/contacts.asp to find out about our office locations across the country and contacts.
All you need to do is to fill out an application form, present a photo and the originals of the following valid documents:
– your national driving permit
Security features of the IDP:
ACM hologram on cover
Inner pages made of UV coated paper
Silkscreen printing
Security film over photo of holder and categories of vehicles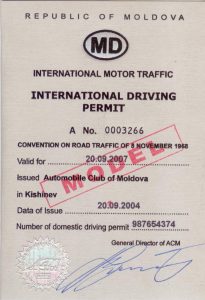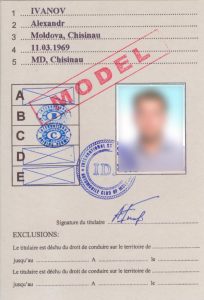 IDP Sample