Netherlands
To apply for an IDP from Netherlands, follow these simple steps:
1. Click the button below to go to the website of the national IDP provider

2. Follow the instructions of your national association
International Driving Permits (1926, 1949, 1968)
How to Get an International Driving Permit in the Netherlands
? 
Country name & FIA IDP-issuing Club's details
Netherlands
An International Driving Permit is a translation of your national driving license. The IDP allows motorists to drive vehicles in foreign countries. While driving abroad, you must always have your IDP along with your national license at all times. To get an International Driving Permit in the Netherlands, visit the ANWB, www.anwb.nl
Contact details
Information about an IDP in (your country)
The Netherlands signed the convention of Geneva and the convention of Vienna, and it is only a legal requirement for visitors to have a valid International Driving Permit (IDP) if the concerned categories of the national driving permit don't comply with the categories according to the Vienna Convention. Car rental companies use to request an IDP if other symbols than Latin language is used (eg. Chinese , Cyrillic). These visitors who plan to drive in the Netherlands must make sure they obtain an IDP in their home country or country of residence before they travel.
The IDP, which is valid for 1 year (Geneva convention) or 3 years (Vienna Convention), proves that you hold a valid driver's license in your country of residence. The IDP is recognized all over the world and is available in 10 different languages in order to help overcome language barriers.
Similarly, Netherlands' nationals and residents who wish to drive outside of Europe, need to apply for an IDP via ANWB.
Requirements
Follow this link to find out about our office locations across the country.
All you need to do is fill out an application form, bring your driving license and a passport photo.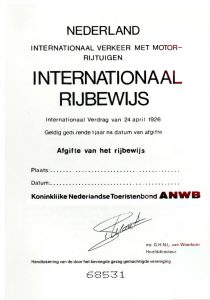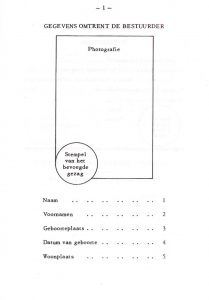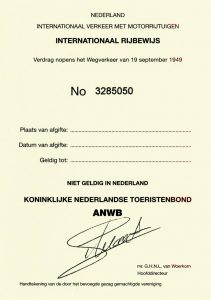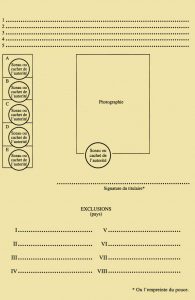 IDP Samples